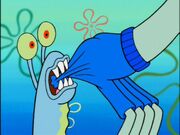 This article documents the relationship of Gary the Snail and Squidward Tentacles. Being SpongeBob's pet snail, Squidward hates Gary, and the latter returns the favor. Unlike Spongebob, Gary is well-aware of Squidward'a dislike for him. Squidward is so careless about Gary that he almost let him die in "I Was a Teenage Gary."
Despite their rivalry, there have been a few peaceful moments between the two, though said moments tend not to last very long.
Soft side
The first time that Squidward and Gary interact is in "Culture Shock," in which Squidward allows Gary to be in the Krusty Krab talent show. Another soft moment between the pair is in "Giant Squidward," where they share the same opinion about SpongeBob and Patrick being annoying when they give them an oversize limb; Squidward listens to Gary's story and replies in an understanding tone "Oh, tell me about it!"
Another time is in "That Sinking Feeling," where Squidward searches for SpongeBob in his house and says "hi" to Gary upon spotting him on the roof and the latter returns the greeting.
In "I Was a Teenage Gary", Squidward is shown to regret neglecting Gary.
Rivalry
Gallery
Community content is available under
CC-BY-SA
unless otherwise noted.