Object
Fancy Living Digest is a magazine that highlights rich fish. It first appears in the episodes "Chocolate with Nuts." This magazine makes SpongeBob and Patrick want to live a fancy life like the people depicted in the magazine.
Description
"Chocolate with Nuts"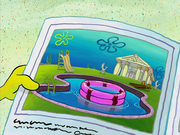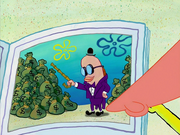 The magazine is purplish-blue and has a picture of a pale pink fish in a suit, wearing a top hat, holding a dollar that is burning, and has the name of the magazine in light blue and white text.
Inside the magazine, there are photos of the luxuries that rich fish can afford. One shows a swimming pool inside another swimming pool, and another shows a fish wearing an expensive suit and shoes with many bags of money.
The magazine is yellow on the cover and back. The words "fancy living" are displayed in bold red letters, followed by a picture of a hat in which the title continues underneath, saying "digest."
The magazine is colored yellow and has the title in purple writing.
The magazine is colored yellow and has the name in purple or blue and has precisely the same picture that was on the House Fancy magazine, except the house on it is pink, and on the back, there is a rectangle and a square both colored blue.
Role in series
"Chocolate with Nuts"
SpongeBob receives this magazine in his mailbox, only for Squidward to come and reveal that it was his mail. It is the inspiration for him and Patrick to become chocolate bar salesmen.
"Missing Identity"
When SpongeBob wakes up after passing out from hyperventilation at the Krusty Krab, Squidward is seen reading this magazine.
"You Don't Know Sponge"
Squidward is seen reading the magazine at the Krusty Krab until he hears a weird noise coming from the kitchen.
"Squirrel Record"
It appears at the beginning of the episode. Squidward is sleeping at the Krusty Krab and the magazine is placed over his face, acting as a shield from the light.