"It's Squidward, silly!"

This article is in need of one or more better quality images. Please help Encyclopedia SpongeBobia by uploading a better image or editing the current image.
Please remove this message when finished.
Extreme Kah-Rah-Tay is a SpongeBob SquarePants DVD that was released on January 15, 2013 and contains five episodes from season 8 and three episodes from season 9. A digital version was also released with different episodes from season 1, season 4, and season 7.
Synopsis
Amazon Prime Video
It's an action-packed collection featuring SpongeBob's favorite sport, a Krabby Patty that runs amok, a freezing competition, the possibility of losing his favorite job at his favorite place, a part in the Bikini Bottom Demolition Derby, and more!
iTunes
SpongeBob has received an invitation to take part in a competition on mysterious Karate Island for the chance to be crowned "King of Karate." And Sandy is mighty suspicious! So she tags along for this questionable challenge, and ends up putting her own karate skills to the test! The action continues when SpongeBob studies kah-rah-tay with Sandy's karate master, Fuzzy Acorns, keeps an eye on the treedome, tries to stop a huge Krabby Patty that's running amok, learns that his favorite pastime might cost him his job when he wreaks havoc at the Krusty Krab, tries teaching Patrick the ways of karate (which might prove to be a huge mistake!), finds himself really stuck in a competition against Patrick, and takes part in the Bikini Bottom Demolition Derby as The Squish!
Episodes
DVD
DVD (International)
Digital
Trivia
General
This is the second karate-themed DVD. The first was Karate Island.
International releases include "Plankton's Good Eye" in replacement for "Extreme Spots," and the South African release includes the episode "Prank Master" from Fanboy & Chum-Chum.
The DVD includes previews of other Nickelodeon DVDs. These include previews for Teenage Mutant Ninja Turtles and The Legend of Korra DVDs.
The cover represents "Squid Defense" from the groceries. It also represents "Squirrel Record" from the dumpster.
This is the first SpongeBob DVD for two things:

The first DVD to include season 9 episodes.
The first DVD since Halloween to feature a still main menu with no music.

This DVD was released on iTunes on the same day as the DVD.
Even though "Squid Defense," "Extreme Spots," and "Squirrel Record" are listed as widescreen format, they are not true widescreen on this DVD. Instead, they are full-screen 4:3 videos with the episode letterboxed between two black bars on the top and bottom of the screen. This is because the DVD is designed for 4:3 TVs, and this will cause the black bars to remain even on widescreen TVs, since they are part of the video.
At some point in 2014, this DVD set and Absorbing Favorites were released in a bundle called the SpongeBob SquarePants 2 Pack.
Errors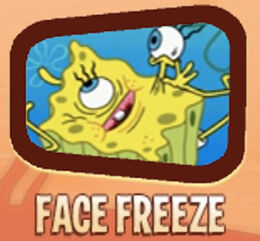 On the episode selection screen and on the back of the DVD, "Face Freeze!" is missing the exclamation point at the end of the title.
Alternate covers
Print advertisement
Video
Digital media (V • E)
Themed:
10 Happiest Moments • Absorbingly SpongeBob • All Hands on Deck! • All Aboard for Laughs • Best of SpongeBob • Beware the Hooks • Bizarro Bikini Bottom • Bikini Bottom Tales • Bikini Bottom Getaways • Bob Esponja Vol. 1 • Bundled Up in Bikini Bottom • Calling All Heroes! • Celebrate the Sea • Driving Bikini Bottom Crazy! • Extreme Kah-Rah-Tay • Factory Fresh • Fine Arts Collection • Friend or Foe? • From the Beginning, Part 1 • From the Beginning, Part 2 • Get to Work! • Ghouls Fools • Glumly Squidward • Heroes of Bikini Bottom • High Tides and Wild Rides • It's a SpongeBob Christmas! • It Came from Goo Lagoon • Laugh Pack • Let's Play • Loveable Sponge • Mermaid Man & Barnacle Boy: Defenders of the Deep • Nautical Nonsense (digtial release) • Mighty Sporting of You • Out to Sea • On the Road • On the Road Again • Oceans of Laughs • Orange Collection • Patchy's Playlist • Patrick's Day • Patrick SquarePants • Rockin' Bikini Bottom • Sheldon Plankton: Mean and Green • Simply Patrick • Snail's Meow • Seaworthy Celebrations • SpongeBob's Atlantis SquarePantis • SpongeBob's Frozen Face-Off • SpongeBob's Pest of the West • SpongeBob SquarePants, iSponge Offer Pack • SpongeBob SquarePants Has Hit Rock Bottom • SpongeBob SquarePants Specials Collection, Vol. 1 • SpongeBob SquarePants Specials Collection, Vol. 2 • SpongeBob vs. The Big One • SpongeBob, You're Fired! • SpongeShorts • Spongicus • SpookTacular • Sportingly Sandy • Super Spongy Square Games • Treasures of the Sea • Sweet & Sour Squidward • Tales of a Teenage Whale • The Seascape Capers • The SpongeBob Musical: Live on Stage! • Viking-Sized Adventures • Waves of Adventure
Season:
The Complete 1st Season • The Complete First Season • The Complete 2nd Season • The Complete Second Season • The Complete 3rd Season • The Complete Third Season • The Complete Fourth Season • The Complete Fifth Season • The Complete Sixth Season • Complete Seventh Season • The Complete Eighth Season • The Complete Ninth Season • The Complete Tenth Season • The Complete Eleventh Season • The Complete Twelfth Season
Movies:
The SpongeBob SquarePants Movie • The SpongeBob Movie: Sponge Out of Water • The SpongeBob Movie Double Pack • SpongeBob Double Feature • The SpongeBob SquarePants Double Feature
Nickelodeon Compilations:
Holly Jolly Holiday Specials • Jolly Saint Nick • Love is Everywhere! • Nick-or-Treat! • Nickelodeon 5 Family Films • Nickelodeon Fool Proof Fun • Nickelodeon's Happy Holiday Pack • Nickelodeon Holly Jolly Holiday Specials • Nickelodeon Hot Picks! • Nickelodeon Kids Choice Awards 2009 • Nickelodeon Summer Pack 2009 • Shocktober! • Shocktober! Vol. 2
Miscellaneous:
Season 6 Volume 5 • Season 7 Volume 1 • Season 7 Volume 2 • Season 7 Volume 3 • Season 7 Volume 4 • SpongeBob Schwammkopf, Staffel 8, Vol. 1 • SpongeBob Schwammkopf, Staffel 9, Vol. 1 • SpongeBob Schwammkopf, Staffel 9, Vol. 2 • SpongeBob Schwammkopf, Staffel 11, Vol. 1 • SpongeBob Schwammkopf, Staffel 11, Vol. 2 • SpongeBob Schwammkopf, Staffel 11, Vol. 3 • SpongeBob Schwammkopf, Staffel 11, Vol. 4 • The Tom Kenny Collection