Extreme Kah-Rah-Tay is a SpongeBob SquarePants DVD that was released on January 15, 2013 and contains five episodes from season 8 and three episodes from season 9.
Episodes
Trivia
This is the second karate-themed DVD. The first is Karate Island.
The DVD includes previews of other Nickelodeon DVDs. These include a Teenage Mutant Ninja Turtles DVD preview and The Legend of Korra DVD preview.
The cover represents "Squid Defense" from the groceries. It also represents "Squirrel Record" from the dumpster.
The international versions of this DVD replace "Extreme Spots" with "Plankton's Good Eye," and may include the Fanboy & Chum Chum episode "Prank Master."
This is the first DVD to include season 9 episodes.
Even though "Squid Defense," "Extreme Spots," and "Squirrel Record" are listed as widescreen format, they are not true widescreen on this DVD. Instead, they are full-screen 4:3 videos with the episode letterboxed between two black bars on the top and bottom screen. This is because the DVD is designed for 4:3 TVs, and this will cause the black bars to remain even on widescreen TVs, since they are part of the video.
At some point in 2014, this DVD set and Absorbing Favorites were released in a bundle called the SpongeBob SquarePants 2 Pack.
This is the first DVD to feature a static main menu with no music.
Errors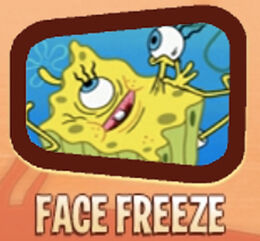 On the episode selection screen and on the back of the DVD, "Face Freeze!" is missing the exclamation point at the end of the title.
Alternate covers
Video
Community content is available under
CC-BY-SA
unless otherwise noted.