Ennio Torresan, Jr. (born October 15, 1963; age 58) is a Brazilian-American and a former SpongeBob SquarePants crew member who was a writer and storyboard writer on season 1.
Biography
Ennio Torresan, Jr. worked at HBO Animation from 1996 to 1998 as a story artist and designer. In 1999, he joined the SpongeBob SquarePants crew as a storyboard director and writer, only to leave at the end of the first season. He went on to work for Disney from 1999 to 2001 on the animated series Teacher's Pet.
From 2002 to 2007, he worked as a story artist at DreamWorks Animation for major animated films, including the Madagascar franchise, Megamind, the Kung Fu Panda franchise, and Bee Movie. In 2010, he worked as a director at Otto Desenhos Animados. He returned to DreamWorks Animation in 2010, working as head of story, and worked on the 2013 film Turbo.
Torresan won three Emmy awards for El Macho in the early 1990s, and another Emmy award in 2003 for Disney's Teacher's Pet.
Credits
Trivia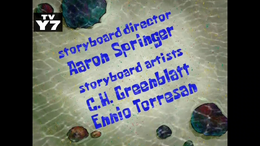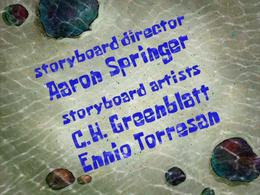 In American TV airings and digital releases of "I'm with Stupid," he is credited as a storyboard artist.
External links