Encyclopedia SpongeBobia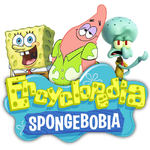 General
Policies
Community
Report problems
Manual of style
Administration
Nominations
Social chatrooms
Other
Main page
This page is for the purpose of reporting problems.
Procedures
The purpose of this page and form is to allow users to report problems. This is so that staff can acknowledge the issue and bring the issue to a quick solution. Here is how it works:
1. Anyone who has a problem report can use the form below to report the problem.
2. Only the reporter and administrators can edit the problem report page.
3. An administrator will look at the report and decide how to go about resolving it.
4. Once the issue is resolved, a bureaucrat will summarise and close the report.
Request form
1. Replace PROBLEM with the name of the problem in the box below.
2. Click "submit."
3. When you submit, fill out the information on the resulting page, then save the page.
4. Copy and paste the following under "current problems" of this page, replacing "PROBLEM" with the name of the problem:
Example: [[ESB:Report a problem/PROBLEM]]
5. If the problem you are reporting is a second time, use the following:
Example: [[ESB:Report a problem/PROBLEM/2]]
6. For subsequent requests, add "/3", "/4," "/5", etc.
Current problems
Archive
| Report | Dates | Icon | Result | Closing bureaucrat |
| --- | --- | --- | --- | --- |
| Automatic sign-out | September 10, 2017 — December 29, 2017 | | Report dismissed. | Spongebob456 |
| MediaWiki:Wikia is not working | March 26, 2017 — August 13, 2017 | | Resolved. | Nicko756 |
| Template isn't working | October 11, 2016 — October 11, 2016 | | Resolved. | ZeoSpark |
| Report a problem template | January 8, 2016 — September 18, 2016 | | Resolved. | Nicko756 |
| Recent Activity | January 8, 2016 — September 18, 2016 | | Report dismissed. | Nicko756 |
| Harassment | December 28, 2015 — December 29, 2015 | | Resolved. | Spongebob456 |
| Possible harassment | December 28, 2015 — December 29, 2015 | | Resolved. | Spongebob456 |
| Jon Satos still not blocked! | August 30, 2015 — December 29, 2015 | | Report dismissed. | Spongebob456 |
| Lack of rules | July 25, 2015 — December 29, 2015 | | Report dismissed. | Spongebob456 |
| Seacactus won't stop begging for admin! | August 6, 2014 — August 10, 2014 | | Report dismissed. | AMK152 |