Encyclopedia SpongeBobia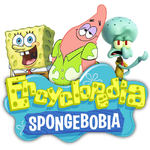 General
Policies
Community
Report problems
Manual of style
Administration
Nominations
Social chatrooms
Other
Main page
The following is a glossary of terms.
List
1. Administrator - any user of the wiki with sysop privileges.
2. Article - a piece of writing included with others in a newspaper, magazine, or other publication.
3. Assistant - any user of the wiki with the assistant right.
4. Bureaucrat - any administrator of the wiki with bureaucratic privileges.
5. Chat - a form of communication between users of Fandom, including, but not limited to: ESB Chat, Skype, and IRC.
6. Chat moderator - a user that has the ability to kick and ban other users from the chat.
7. Compilation - a thing, especially a book, record, or broadcast program, that is put together by assembling previously separate items.
8. Demotion - a removal of a user from a user right, either through user rights review, resignation, or removal by a user of higher power.
9. Discussion moderator - a user with the ability to manage threads and the forum.
10. Edit war - a dispute in which two or more editors revert changes to an article between opposing revisions.
11. Editing role - a role that has to do with the editing aspect of the wiki, including rollbacks, administrators, and assistants.
12. Gallery - a collection of image/video files on an article.
13. Impersonator - a user who pretends to be someone who they are not.
14. List - a number of connected items or names written or printed consecutively, typically one below the other.
15. Main namespace - informational content of the wiki.
16. Namespace - group of pages with similar purposes.
17. Page header - the top of the page, which features the name of the page.
18. Page title - the title of the article that appears in the page header and the URL.
19. Partial revert - reversing only part of a prior edit, while retaining other parts of it.
20. Resign - the voluntary act of giving up a promoted position.
21. Retire - the voluntary act of giving up a promoted position and ceasing activity on the wiki.
22. Revert - reversing a prior edit, which typically results in the article being restored to a version that existed sometime previously.
23. Rollback - any user that has the user right to quickly remove several edits on a user that are continuous on a single article.
24. Sandbox - a page for testing.
25. Social role - a role that has to do with the social aspect of the wiki, including chat moderators and discussion moderators.
26. Transcript - an article composed of a written version of an episode, short, special, movie, ride, or video game cutscenes.
27. User - any member of the wiki's community.
Community content is available under
CC-BY-SA
unless otherwise noted.