This article is under construction.

This article is currently in the middle of an expansion or major revamping. Please help Encyclopedia SpongeBobia by contributing to it.
Please remove this message when finished.
Encyclopedia SpongeBobia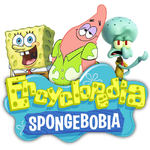 General
Policies
Community
Report problems
Manual of style
Administration
Nominations
Social chatrooms
Other
Main page
On any website, they must follow copyright rules so that they remain online. On Encyclopedia SpongeBobia, we enforce some rules to ensure we do not infringe upon copyright laws.
Procedures
I. General information regarding copyright
A. How and how not to use obtained copyrighted material
1. Posting screenshots of announced episodes is acceptable, provided a sufficient amount of images are added to demonstrate readers what the episode is about and what important aspects there are in the episode of concern.
2. Posting official released trailers of an episode is acceptable, as it demonstrates parts of the episode in succinct detail without showing the whole episode itself.
3. Images made purely for participating in wiki background contests may be permitted, excepting those containing fictional characters not native to the SpongeBob franchise.

i. Contest images must not be fan-art that has been obtained without permission, especially if obtained from the internet. Any fan-art obtained by someone else must have explicit permission to do so.
ii. All contest images containing fictional characters other than those native to the SpongeBob SquarePants franchise will be removed.
iii. Those violating above rules of Rule 3 will be formally warned. Repeat offenders will be blocked.
iv. The only exception to this rule is if the image is confirmed an unedited screenshot of any confirmed SpongeBob SquarePants episode, movie, or short.

4. Images, sounds, and videos for userpage space are permitted, as long as they are used only for use to illustrate yourself.

i. Images, sounds, and videos that strongly advertise something is not permitted. However, those that merely mention something about the subject of concern is still permitted. An acceptable example is when you use a screenshot of another wiki around Fandom to help reinforce that you do edit the wiki of concern; an unacceptable example is when you use the same image to promote advertising of the wiki of concern.
ii. Anyone violating the above rules of Rule 4 will be warned and have the violating media deleted. Further violators may get blocked.

5. Images with a watermark on them are strictly forbidden. A watermark is text of the owner of the picture used to protect it from copyright infringement.

i. If the image(s) of concern are screenshot(s) of a confirmed episode, movie, or short, then they only need to be quickly replaced with watermark-free replacement screenshot(s) as soon as possible.
ii. Any other watermarked images should be promptly replaced watermark-free or else the image(s) will face deletion.
iii. Administrators are free to use their discretion to deal with the user who uploaded the watermarked images. However, they should formally warn the user first before blocking after the user's second offense.
II. Linking to full episodes or movies
A. No posting full links to episodes, with exception of Nick.com. It is a copyright violation for any website excepting the owner, in this case, Nickelodeon, to release a full link of a full episode. Bear in mind that any movie of SpongeBob will not appear on Nick.com, due to the nature of movies.
1. Anyone posting full links to illegal full episodes will be subject to formal warnings by administrators. Anyone who further offends this rule may get blocked.
2. Administrators and discussion moderators have the right to remove the links at any circumstance.
3. Any discussion moderator removing links to full episodes and/or movies should contact an administrator immediately upon detection of such copyright violations.
B. Do not mention anything about obtaining illegal access to full episodes or full movies. Please refer to II. A. for more information on what is considered "illegal" access to full episodes or movies.
C. Do not reply to comments asking for links to full episodes. Giving URL links or website domain names to the full episodes is not acceptable, as it is illegal to stream full episodes of a TV series or a movie.
Community content is available under
CC-BY-SA
unless otherwise noted.