Encyclopedia SpongeBobia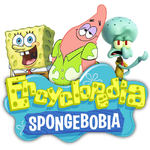 General
Policies
Community
Report problems
Manual of style
Administration
Nominations
Social chatrooms
Other
Main page
Policies
1. This section outlines the process by which an article become featured on the home page for each month.
2. Procedures

a. These clauses outline the process of the Article of the Month award.
b. Eligibility

i. The article must follow all relevant guidelines.
ii. The article must be free of spelling/grammar issues.
iii. The article must be at least 3,000 bytes (see history to find the size).
iv. The article must be free of any editing controversy.
v. The article must be of the highest quality.
vi. The article must contain at least one image.
i. The nominator will create a nomination page and list reasons why the article is good enough to be featured.
ii. Everyone can contribute to the discussion and show their support or opposition for the nomination.
iii. Nomination discussions expire after (3) months. After this, an article can be renominated.
iv. On the last day of each month the next month's Article of the Month will be determined based on the following formula: (Number of Supports)-(Number of Opposed)=Nomination Rating. The current article with the highest nomination rating at the time will become the "Article of the Month" for the following month.
Nominate
To nominate an article, use the following form:
1. Be sure that the article you nominate follows the above requirements, otherwise the nomination will be closed.
1. Replace ARTICLE with the name of the article you wish to nominate in the box below.
2. If the article has already been nominated, add a "/2" or /"3" etc. after their name. (Example: ARTICLE/2 or ARTICLE/3)
3. Click the button to create the nomination page.
4. On the nomination page, state your reasons for why you believe the article you nominated should be Article of the Month.
5. When you save the page, post the nomination to the ESB:Nominations page so that all nominations are listed in one place.
Nominations
Article
Nominator
When nominated (EST)
Rating
No current nominations

Ratings last updated May 13, 2019, at 1:26 A.M. (EST) (edit this table)

Ratings also include the nominator. Note that nominations expire after 3 months, but the article can be re-nominated immediately.
Archive
The following is an archive of previous nominations, either successful or unsuccessful:
| Article | Nominator | Discussion | Result |
| --- | --- | --- | --- |
| Jimmy Neutron's Nicktoon Blast (nomination page) | by Jewel4ever | June 10, 2014—December 3, 2016 | Rating of -5; nomination expired. |
| Plankton's Army (transcript) (nomination page) | by Muchacha | June 3, 2014—December 3, 2016 | Rating of 2; nomination expired. |
| Help Wanted (nomination page) | by AMK152 | June 10, 2014—December 3, 2016 | Rating of 11; AOTM for December 2016. |
| Roller Cowards (nomination page) | by MightyMorphinJon | November 4, 2016—December 31, 2016 | Rating of 10; AOTM for January 2017. |
| Toy Store of Doom (nomination page) | by Mr litwak123 | September 1, 2014—January 13, 2017 | Rating of 0; nomination expired. |
| Patrick Star (nomination page) | by The Logo Cooler | October 17, 2014—January 13, 2017 | Rating of 1; nomination expired. |
| SpongeBob SquarePants (series) (nomination page) | by Spongebob194 | October 5, 2014—January 13, 2017 | Rating of 1; nomination expired. |
| Davy Jones (nomination page) | by Elizabeth.milcareksultan | November 15, 2014—January 13, 2017 | Rating of 0; nomination expired. |
| Chocolate with Nuts (nomination page) | by Enigima | December 4, 2016—January 31, 2017 | Rating of 7; AOTM for February 2017. |
| SpongeBob Kanciastoporty (nomination page) | by Chuck123456 | November 5, 2016—February 8, 2017 | Rating of 2; nomination expired. |
| The Camping Episode (nomination page) | by Nicko756 | January 13, 2017—March 1, 2017 | Rating of 8; AOTM for March 2017. |
| Fools in April (nomination page) | by Chuck123456 | March 3, 2017—April 1, 2017 | Rating of 7; AOTM for April 2017. |
| Band Geeks (nomination page) | by LuigiTheMurderer | April 4, 2017—August 8, 2017 | Rating of 5; nomination expired. |
| Krabby Land (nomination page) | by The gamer 987654321 | April 19, 2017—August 8, 2017 | Rating of 4; nomination expired. |
| Mermaid Man and Barnacle Boy VI: The Motion Picture (nomination page) | by The gamer 987654321 | January 15, 2017—August 8, 2017 | Rating of 3; nomination expired. |
| SpongeBob Gold (nomination page) | by Nick mick | February 26, 2017—August 8, 2017 | Rating of 0; nomination expired. |
| Mooncation (nomination page) | by LuigiTheMurderer | March 3, 2017—August 8, 2017 | Rating of -4; nomination expired. |
| It's a SpongeBob Christmas! (nomination page) | by Phillydan25 | January 19, 2017—August 8, 2017 | Rating of -4; nomination expired. |
| Valentine's Day (nomination page) | by Chuck123456 | January 19, 2017—August 8, 2017 | Rating of -4; nomination expired. |
| Club SpongeBob (nomination page) | by Dip77 | August 15, 2017—September 1, 2017 | Rating of 10; AOTM for September 2017. |
| Scaredy Pants (nomination page) | by NatRox | September 2, 2017-October 1, 2017 | Rating of 11; AOTM for October 2017. |
| Krusty Krab Training Video (nomination page) | by LuigiTheMurderer | September 2, 2017-November 1, 2017 | Rating of 12, AOTM for November 2017. |
| Jellyfishing (nomination page) | by AFallenPower | August 17, 2017-December 1, 2017 | Rating of 10; AOTM for December 2017. |
| Snowball Effect (nomination page) | by Golfpecks256 | December 1, 2017 at 8:45 PM-January 1, 2018 | Rating of 13; AOTM for January 2018. |
| The SpongeBob Movie: Sponge Out of Water (nomination page) | by EmpressYzma | January 2, 2018-February 16, 2018 | Rating of 9, AOTM for February 2018. |
| Wet Painters (nomination page) | by Dip77 | September 10, 2017—March 9, 2018 | Rating of -3; nomination expired. |
| Christmas Who? (nomination page) | by LuigiTheMurderer | November 1, 2017—March 9, 2018 | Rating of -2; nomination expired. |
| Goodbye, Krabby Patty? (nomination page) | by Tyler730 | September 14, 2017—March 9, 2018 | Rating of 10; nomination expired. |
| Sold! (nomination page) | by Tyler730 | December 25, 2017—April 3, 2018 | Rating of 3; nomination expired. |
| Band Geeks (nomination page) | by Willdawg14 | January 4, 2018—July 29, 2018 | Rating of 4; nomination expired. |
| Pressure (nomination page) | by AlternativeHuman93 | July 28, 2018—August 1, 2018 | Rating of 1; AOTM for August 2018. |
| Mimic Madness (nomination page) | by Tyler730 | June 7, 2018—August 2, 2018 | Nomination expired. |
| Mimic Madness (nomination page) | by Figmeister | August 2, 2018—September 1, 2018 | Rating of 7; AOTM for September 2018. |
| The Algae's Always Greener (nomination page) | by LuigiTheMurderer | August 2, 2018—October 1, 2018 | Rating of 6; AOTM for October 2018. |
| Squidville (nomination page) | by VemsaVideo | September 2, 2018—November 1, 2018 | Rating of 11; AOTM for November 2018. |
| Patrick Star (nomination page) | by EmilyHarmonizer02 | October 25, 2018—December 1, 2018 | Rating of 12; AOTM for December 2018. |
| Chocolate with Nuts (nomination page) | by Hoppingicon | September 3, 2018—December 8, 2018 | Rating of -6; nomination expired. |
| Krabs à la Mode (nomination page) | by A Wikia Contributor ITALIAN's return | November 11, 2018—January 1, 2019 | Rating of 7; AOTM for January 2019. |
| Squilliam Fancyson (nomination page) | by CartoonEverything | October 1, 2018—January 1, 2019 | Rating of 4; nomination expired. |
| Toy Store of Doom (nomination page) | by GraniteToast1992 3.0 | October 5, 2018—January 5, 2019 | Rating of -1; nomination expired. |
| New Student Starfish (nomination page) | by AlternativeHuman93 | Augustin 5, 2018—January 16, 2019 | Rating of 1; nomination expired. |
| Battle for Bikini Bottom (nomination page) | by Bombastic Brody | September 2, 2018—January 16, 2019 | Rating of 1; nomination expired. |
| Valentine's Day (nomination page) | by Dragongeek71 | January 5, 2018—January 16, 2019 | Rating of 4; nomination expired. |
| List of antagonism by character (nomination page) | by BattleForBFDIFan4 | October 6, 2018—January 16, 2019 | Rating of -4; nomination expired. |
| SpongeBob SquarePants (character) (nomination page) | by CartoonEverything | January 23, 2019—February 1, 2019 | Rating of 8; AOTM for February 2019. |
| The SpongeBob SquarePants Movie (nomination page) | by Figmeister | February 21, 2019—March 1, 2019 | Rating of 9; AOTM for March 2019. |
| Krusty Towers (nomination page) | by CoolFriend3976 | April 29, 2019—May 8, 2019 | Rating of 4; AOTM for May 2019. |
| SpongeBob's grandson (nomination page) | by CheeseCrocker | February 10, 2019—May 13, 2019 | Rating of 0; nomination expired. |