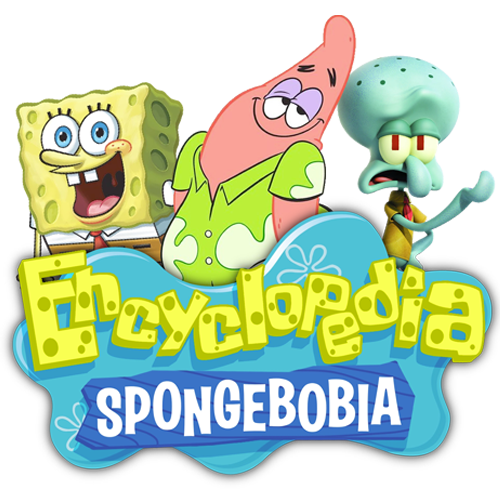 Encyclopedia SpongeBobia is a wiki for SpongeBob SquarePants-related content.
"The goal of Encyclopedia SpongeBobia is to create a central information database for everything SpongeBob SquarePants-related and to make this the most accurate and largest SpongeBob SquarePants information database. All are welcome to create and help us achieve our goal."
History
For more information on ESB's history, see Encyclopedia SpongeBobia (website)
In June 2006, WikiProject SpongeBob SquarePants was created to help work with the SpongeBob-related articles on Wikipedia. After this, the depth of SpongeBob on Wikipedia grew from 2006 to 2007. This did not last, however. In May 2007, the status of SpongeBob episode and character articles on Wikipedia as separate entities was threatened. WikiProject SpongeBob SquarePants was notified, and a huge debate regarding the fate of the massive amount of articles developed. After a heated debate, the episode and character articles were ultimately redirected to their respective lists. As the information began to disappear from Wikipedia, an effort was made to save the data.
The SpongeBob SquarePants Wiki was created in April 2007. As the debate continued on Wikipedia, attention was brought up toward the new wiki. When the fate of the SpongeBob data on Wikipedia seemed bleak, a massive migration of articles went underway in the summer of 2007, and the images were saved just in time from their deletion on Wikipedia as well.
After the massive migration of data to the new wiki, progress was slow at first regarding the building of an editor community. However, as 2007 drew to a close and 2008 began, the wiki began to grow. Hundreds of edits were made per day, and 2009 saw the appointment of 3 administrators, the first promotions since 2007. 7 administrators were promoted in 2010, and 6 in 2011. Currently, there are 8 administrators, 3 of which are bureaucrats.
In 2011, massive improvements were made in layouts in regards to the episode list, and the episode and transcript infoboxes. In 2012, there was an attempt to create a massive SpongeBob fansite called SpongeBob Universe, although that project was abandoned. The project did, however, spark community involvement, and the wiki continued to grow and improve through 2013 and 2014. In April 2014, the wiki celebrated its 7th anniversary with a new name, Encyclopedia SpongeBobia. In April 2017, ESB celebrated its 10 year birthday, a huge milestone.