Online game
Dutchman's Deck Dash of Doom! is a SpongeBob SquarePants online game.
It was released in 2009 to celebrate SpongeBob's 10th anniversary.
Gameplay
SpongeBob and Patrick have "borrowed" a chest of gold coins from the Flying Dutchman. But, the Flying Dutchman thinks they are thieves. Help SpongeBob and Patrick high-tail it off the deck. Use the arrow keys to navigate and dodge crates. Tap the space bar to jump over crates. Hold the space bar to duck under crates. The game ends when the player bumps into too many crates and lose the all the gold coins.
Characters
Playable
Non-playable
Trivia
Sometimes, Sandy comes by to give the player more gold coins.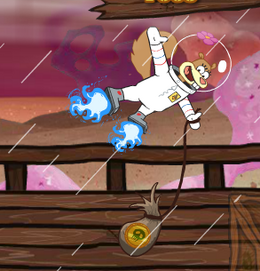 When the player starts the game, the APM track "Evil Mind 3" can be heard. This music later became used in "Ghoul Fools."