If you were looking for the article about the
creative director and writer
, then see
Derek Drymon
.
If you were looking for the article about the
prop designer and clean-up artist
, then see
Derek L'estrange
.
Person
Derek Robert Iversen (born May 19, 1971; age 51) is a SpongeBob SquarePants crew member who has worked on the show since the premiere of "Bubblestand" as a production assistant, but did not start writing episodes until season 6.
List of live-action cameos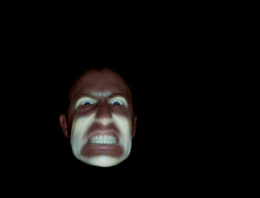 Biography
Iversen was born on May 19, 1971 in Phoenix, Arizona. He started his career in television working on The Angry Beavers as a production assistant. As of "Safe Deposit Krabs," Derek Iversen has written 45 episodes of SpongeBob. After working on SpongeBob SquarePants, he started working on Sanjay and Craig, Home: Adventures with Tip & Oh, and Billy Dilley's Super-Duper Subterranean Summer.
Trivia
Errors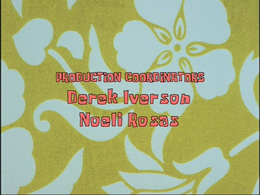 In the closing credits for "Friend or Foe," "Rise and Shine," "Waiting," and "Fungus Among Us," his name was misspelled as Derek Iverson with an "o" instead of an "e."
In the opening credits of "Porous Pockets" and "Shuffleboarding," Derek Iversen was spelled as Derek iversen with a lowercase i.
This could be because of the font used, as the official SpongeBob font has a slightly larger lowercase 'i' in place of a capitalized one.