The Chancellor is the secondary antagonist of The SpongeBob Movie: Sponge on the Run. He serves alongside King Poseidon and is portrayed by Reggie Watts.
Description
He is an old light-green fish with green lips and eyebrows wearing a blue robe with gold waves on it, a big red graduation hat, and a gold chain necklace with a letter "C" on it.
Trivia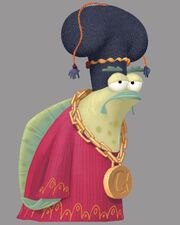 According to concept art from the movie, the Chancellor originally had an different design. His robe was originally red while his hat was black.
Originally, the Chancellor was supposed to be "sullen and droopy" in character. But with time, he evolved into someone that is "fun, loud and bright."[1]
References