Person
Carl Harvey "C.H." Greenblatt (born June 17, 1972; age 50) is a former SpongeBob SquarePants crew member.
He was the original voice actor of Carl in the episode "Selling Out" and Fred Fredburger on The Grim Adventures of Billy & Mandy. He also appears several times in his own show, Chowder, usually as a puppet. On most of the SpongeBob episodes he worked on, he collaborated with Aaron Springer, Merriwether Williams, and Frank Weiss.
In 2015, he returned to Nickelodeon as a storyboard punch-up for The SpongeBob Movie: Sponge Out of Water and as the creator of the television show Harvey Beaks.
As for 2016, C.H. Greenblatt has no plans to return to SpongeBob, due to his position with Harvey Beaks.[1][2] Following the cancellation of the latter show, Greenblatt stated he kept an open mind on what could happen in the future, meaning that the chances of him returning to SpongeBob were not completely false.[3] However, in April 2018, Greenblatt announced that he was now working in Warner Bros. Animation and developing a new show Jellystone!, thus ending any chance of Carl's return to SpongeBob.[4][5]
Biography
C.H. Greenblatt is an American cartoon screenwriter, producer, and storyboard artist. He has worked on SpongeBob SquarePants, and on the Cartoon Network series The Grim Adventures of Billy & Mandy and Evil Con Carne. He is best known as the creator of Chowder, as well as of Harvey Beaks. He had attended the University of Texas at Austin where he majored in advertising, and got his first job in the animation industry working as a storyboard artist for SpongeBob SquarePants.
In November 2007, Greenblatt created Chowder, an animated show that he was the creator and executive producer of. He announced on his blog that Nickelodeon had given him a head-start for an 11-minute pilot of a new show that he had created, entitled Harvey Beaks. He announced in September 2013 that the show has since been picked up for 26 11-minute episodes, with the production commencing at the beginning of 2014.
Gallery
Art Department Roles
Trivia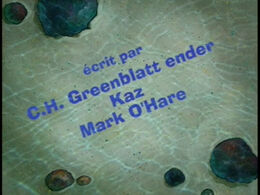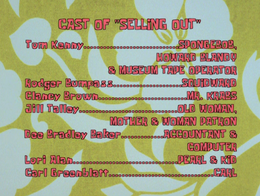 Carl from the episode "Selling Out," whom Greenblatt originally voiced, is based on him.
References
Annie Awards
Outstanding Individual Achievement for Voice Acting by a Female Performer in an Animated Television Production
Voice actors: Mary Jo Catlett as Mrs. Puff (in "No Free Rides;" 2001)

Outstanding Individual Achievement for Voice Acting by a Male Performer in an Animated Television Production
Voice actors: Tom Kenny as SpongeBob SquarePants (in "Wormy;" 2001)

Outstanding Individual Achievement for a Song in an Animated Production
Singers: Peter Strauss and Paul Tibbitt for "The Very First Christmas" (in "Christmas Who?;" 2001)

Best Writing in an Animated Television Production
Writers: C.H. Greenblatt, Paul Tibbitt, Mike Bell, and Tim Hill (for "Fear of a Krabby Patty;" 2006)

Best Voice Acting in an Animated Television Production
Voice actors: Tom Kenny as SpongeBob SquarePants (in "Spy Buddies;" 2008)

Direction in an Animated Television Production or Short-form
Directors: Alan Smart (for "Penny Foolish;" 2009)

Best Home Entertainment Production
DVDs: SpongeBob vs. The Big One (DVD) (2010)

Best Voice Acting in a Television Production
Voice actors: Tom Kenny as SpongeBob SquarePants (in "Truth or Square;" 2010)

Music in a Television Production
Composers: Jeremy Wakefield, Sage Guyton, Nicolas Carr, and Tuck Tucker (2011)

Writing in a Television Production
Writers: Dani Michaeli, Sean Charmatz, Nate Cash, Luke Brookshier, and Paul Tibbitt (for "Patrick's Staycation;" 2012)

Character Animation in an Animated Television or other Broadcast Venue Production
Animators: Dan Driscoll and Savelen Forrest (for "It's a SpongeBob Christmas!," 2013)

Directing in an Animated Television or other Broadcast Venue Production
Directors: Mark Caballero and Seamus Walsh (for "It's a SpongeBob Christmas!," 2013)

---
Emmy Awards

Primetime Emmy Awards
Outstanding Animated Program (for Programming Less Than One Hour)
Nominees: Sean Dempsey, Derek Drymon, Juli Murphy Hashiguchi, Sam Henderson, Stephen Hillenburg, Jay Lender, Mark O'Hare, Kent Osborne, Alan Smart, Paul Tibbitt, Tom Yasumi (for "New Student Starfish"/"Clams," 2003) • Derek Drymon, Juli Murphy Hashiguchi, Stephen Hillenburg, Kent Osborne, Andrew Overtoom, Alan Smart, Paul Tibbitt (for "Ugh," 2004) • Mike Bell, C.H. Greenblatt, Stephen Hillenburg, Alan Smart, Paul Tibbitt, Vincent Waller, Tom Yasumi (for "Fear of a Krabby Patty"/"Shell of a Man," 2005) • Casey Alexander, Luke Brookshier, Stephen Hillenburg, Tom King, Dani Michaeli, Chris Mitchell, Andrew Overtoom, Alan Smart, Paul Tibbitt and Tom Yasumi (for "Bummer Vacation"/"Wigstruck," 2007) • Steven Banks, Charlie Bean, Stephen Hillenburg, Dani Michaeli, Chris Reccardi, Alan Smart, Aaron Springer, Paul Tibbitt, Tom Yasumi (for "The Inmates of Summer"/"The Two Faces of Squidward," 2008)

Outstanding Special Class - Short-Format Animated Programs
Nominees: Dina Buteyn, Stephen Hillenburg, Dani Michaeli, Alan Smart, Aaron Springer, Paul Tibbitt and Tom Yasumi (for "Dear Vikings," 2009)

Outstanding Short-format Animated Program
Nominees: Luke Brookshier, Dina Buteyn, Nate Cash, Stephen Hillenburg, Doug Lawrence, Andrew Overtoom, Alan Smart and Paul Tibbitt (for "That Sinking Feeling," 2011) • Marc Ceccarelli, Stephen Hillenburg, Kyle McCulloch, Jennie Monica, Jack Pendarvis, Alan Smart, Paul Tibbitt, Vincent Waller, Tom Yasumi (for "Company Picnic," 2016) • Luke Brookshier, Marc Ceccarelli, Stephen Hillenburg, Jennie Monica, Adam Paloian, Alan Smart, Vincent Waller, Tom Yasumi (for "Plankton Paranoia," 2019)

---
Daytime Emmy Awards
Outstanding Directing in an Animated Program
Directors: Andrew Overtoom, Andrea Romano, Alan Smart and Tom Yasumi (2010) • Casey Alexander, Luke Brookshier, Nate Cash, Zeus Cervas, Sean Charmatz, Andrew Overtoom, Andrea Romano, Alan Smart, Aaron Springer, Paul Tibbitt, Vincent Waller and Tom Yasumi (2012)
Outstanding Special Class Animated Program
Animators: Dina Buteyn, Stephen Hillenburg and Paul Tibbitt (2010)

Outstanding Children's Animated Program
Nominees: Stephen Hillenburg, Jennie Monica Hammond and Paul Tibbitt (2012) • Stephen Hillenburg, Marc Ceccarelli, Vincent Waller and Jennie Monica (2018)

Outstanding Performer in an Animated Program
Voice actors: Rodger Bumpass as Squidward Tentacles (2012) • Tom Kenny as SpongeBob SquarePants (2018) • Tom Kenny as SpongeBob SquarePants (2020)

Outstanding Sound Editing – Animation
Nominees: Todd Brodie, Nicolas Carr, Mishelle Fordham, Chris Gresham, Matt Hall, Jeffrey Hutchins, James Lifton, Paulette Lifton, D.J. Lynch, Aran Tanchum and Kimberlee Vanek (2012) • Mishelle Fordham, Vincent Guisetti, Jeffrey Hutchins, James Lifton, Paulette Lifton, D.J. Lynch, Wes Otis, Monique Reymond and Aran Tanchum (2013) • Devon Bowman, Nicolas Carr, Mishelle Fordham, Jeff Hutchins, Aran Tanchum and Vincent Guisetti (2014)

Outstanding Sound Mixing for an Animated Program
Nominees: D.J. Lynch, Justin Brinsfield, Ryan Greene, Manny Grijalva, Jeff Hutchins and Aran Tanchum (2020)