Bubble transitions, also known as bubble wipes, are a recurring element of SpongeBob SquarePants episodes. They are a transition effect that show copious amounts of bubbles floating up from the bottom of the screen as the scene the transition plays on cuts to the next scene.
Variants
There are some episodes or scenes in episodes where the bubble transition is replaced with another transition effect.
Trivia
"Rock Bottom" is the only episode to end with a bubble transition.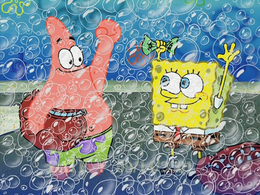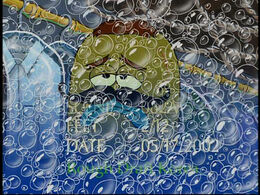 In some earlier episodes, text can mistakenly be seen at the bottom of the screen during bubble transitions:
In "Born to Be Wild," SpongeBob breaks the fourth wall by riding on a bubble transition.
In "Truth or Square" and all episodes since "Extreme Spots," the transitions were updated with slightly fewer bubbles and are larger in order to fit the 720p/1080i high-definition screen.
In "Truth or Square," as well as certain season 9 and 13 episodes, a different sound effect is used for the bubble transitions.
"Tutor Sauce" has 14 bubble transitions, the most out of any episode, beating "License to Milkshake" with 13.
The bubble transitions also appear in the Finny the Shark TV series, but this time, the bubbles float from left to right instead of bottom to top.