"Bossy Boots" is a SpongeBob SquarePants episode from Season 2. In this episode, Pearl gets a job at the Krusty Krab and makes some major changes to the place.
Characters
Synopsis
As the episode begins at the Krusty Krab, Mr. Krabs is holding a meeting with his employees, informing them that his daughter Pearl is going to be working at the Krusty Krab during her summer vacation and that she has lots of new ideas to improve the restaurant. Squidward does not like the idea of being told what to do by a teenager, and he and SpongeBob agree to stand up to her to protect their jobs.
Pearl soon arrives and SpongeBob's resolution quickly crumbles, adoring the flamboyant new uniform Pearl gives them. After exchanging many ideas, Pearl and SpongeBob agree to turn the Krusty Krab into the "Kuddly Krab," and re-purpose the restaurant into a hip café, all with Mr. Krabs' blessing.
Squidward remains the only holdout and shakes the newly designed sign in frustration. Two passersby are surprised the Krusty Krab is seemingly gone and, thinking Squidward is a woman, ask him where a place to eat is. Enraged, Squidward quits on the spot and rips off his costume, only for a police officer to write him up and stick the ticket on him as a loincloth.
The Kuddly Krab quickly becomes a hit with the teenage crowd. SpongeBob is told to make a salad, which he has never heard of, so he makes a Krabby Patty and shows it to Pearl. Disgusted, she tells him to take off the buns and the patty, leaving only tomatoes and lettuce. Upon returning to the kitchen, SpongeBob is horrified to see that his stove is gone. Pearl explains to him that Krabby Patties are no longer "hip," and that they now serve only tea and salad. SpongeBob is then given a humiliating mascot costume to wear out front, which finally drives him to complain to Mr. Krabs.
Despite putting on a brave face, Mr. Krabs admits that the renovations are indeed causing the restaurant to lose money. He agrees that Pearl has to be let go, but he cannot bring himself to fire his own daughter, so he makes SpongeBob fire her. SpongeBob then calls Pearl into the kitchen, dreading what he has to do. Before he can say anything however, Pearl starts crying and reveals the truth: she does not like working at the Krusty Krab and she has been trying to get herself fired since the beginning. Pearl also admits that she only took the job to please her dad, but she is not sure of how to tell him that she does not want to work there anymore. After hearing this, SpongeBob comes up with a plan to stage Pearl being fired outside of her dad's office.
As Mr. Krabs listens in to the exchange, he debates with himself whether he should allow it to happen. The sight of his empty safe with a spider web finally prompts him to yell to SpongeBob to get on with it, but with the words, "Pearl, you're fired," the strain on Mr. Krabs' heart knocks him out cold. Pearl thanks SpongeBob for letting her go and kisses him on the cheek before dashing off to the mall with her friends.
SpongeBob enters Mr. Krabs' office to report his success, only to find him passed out on the floor. After being revived with a twenty-dollar bill, Mr. Krabs laments what has been done to Pearl, but SpongeBob assures him that she is happy with her life outside of the family business and is off to bigger and better things. However, Mr. Krabs does not know how to get his money back for the Kuddly Krab's decorations, so SpongeBob happily takes them all home in exchange for one year's salary, which makes Gary sad while the episode ends from there.
Production
Art
Music
( ‣ ) Associated production music

( • ) Original music

( ◦ ) SpongeBob music

 ‣ Moloka'i Nui A - Kapono Beamer [title card]
 ‣ The Tip Top Polka/The Cliff Polka - Chelmsford Folk Band [opening]
 ‣ Romeo & Juliet Overture - Peter Ilyich Tchaikovsky, Fiachra Trench ["The new spatulas are here!"]
 ‣ Family Tales H - Peter Balding, Otto Sieben [teaching Pearl how to breach]
 ‣ Vibe Link (b) - Richard Myhill ["Hello? Daddy!"]
 ‣ Heavy Footsteps (a) - Paddy Kingsland ["SpongeBob, do you realize what this means?"]
 ‣ The Rake Hornpipe - Robert Alexander White ["Say hello to me Pearl!"]
 ‣ Furtive Footsteps - Paddy Kingsland ["Okay, this is it, SpongeBob. Now tell her how you really feel about that uniform."]
 ‣ Revelation - Dick Stephen Walter ["This is the greatest uniform ever!"]
 • 12th Street Rag  - Nicolas Carr, Sage Guyton, Jeremy Wakefield ["Oh, SpongeBob, you look so adorable."]
 ‣ On the Beach - Kapono Beamer [Squidward wearing the new uniform]
 • Harp! - Nicolas Carr ["Me? Really?"]
 ‣ Gorgeous Girl - Kurt Schick [coming up with new names for the Krusty Krab]
 ‣ Short Fanfare [#29.02] - Alfred Kluten [The King Krab]
 ‣ Conga [#61] - Sammy Burdson [The Kool Krab]
 ‣ Guitar Rag 1 - Herbert Wallace, Jerry Burnham, Joseph Wilson [The Kowboy Krab]
 ‣ Slipping Over - Dave Rogers, Paul Shaw [The Kurly Krab]
 ‣ Shock - Cornelus Joh Bolten [The Kreepy Krab]
 ‣ Shock Horror (a) - Dick Stephen Walter [The Killer Krab]
 ‣ Hawaiian Link (b) - Richard Myhill [The Kuddly Krab]
 • Steel Licks 2 - Jeremy Wakefield [Squidward rips the uniform off]
 ◦ Bossy Boots - The Capsules [inside the Kuddly Krab]
 ‣ Aloha - Dick Stephen Walter ["Okay, no buns."]
 ‣ Lovely Scenery C - Mladen Franko [the grill's gone]
 ‣ Hawaiian Link (a) - Richard Myhill [SpongeBob in a crab costume]
 ‣ Stiff Upper Lip - Paddy Kingsland ["I'm a fry cook, darn it!"]
 ‣ Kids Up and Go (b) - Steve Sidwell [inside Krabs' office]
 ‣ What Shall We Do with the Drunken Sailor - Okko Bekker ["It's hip! It's coral! It's...!"]
 ‣ Botany Bay (b) - Robert Alexander White ["It's losing money!"]
 • Idea Vibe - Nicolas Carr ["That's it, boy!"]
 ◦ Bossy Boots - The Capsules ["...I'll wait in me office."]
 ‣ Vibe Link (a) - Richard Myhill ["How am I gonna break it to her?"]
 ‣ Island Romance - Jan Rap [Pearl cries]
 ‣ Orchestral Effect (f) - Dick Stephen Walter ["I've got it!"]
 ‣ Hawaiian Link (b) - Richard Myhill [later...]
 ‣ Action Cut A - Gregor F. Narholz [SpongeBob pretending to fire Pearl]
 ◦ Bossy Boots - The Capsules ["Come on, gang, the mall waits!"]
 ‣ House of Horror - W. Merrick Farran [SpongeBob screams]
 ‣ Hawaiian Breeze - Jon Jelmer ["How could we have done such a thing to me own flesh and blood?"]
 • ? Vibes - Nicolas Carr ["Hmm..."]
 ◦ Bossy Boots - The Capsules [ending]

Release
This episode is available on the Tide and Seek, Complete 2nd Season, First 100 Episodes, Imitation Krabs, SpongeBob SquarePants Vol. 2, The Complete Second Season, Sponge Crazy, Squidward's Day Off, The SpongeBob SquarePants 8 Season DVD Collection, The SpongeBob SquarePants Collection, The Ultimate SpongeBob Box Set, From the Beginning, Part 1, Your Shoes are Loose, SpongeBob, You're Fired!, I'm Your Biggest Fan, Tales of a Teenage Whale, The First & Second Seasons, and The Best 200 Episodes Ever DVDs.
This episode is also available on the Tide and Seek VHS and Sponge-a-Rama VHS tapes.
Reception
"Bossy Boots" was ranked #93 during the Best Day Ever event from November 9–10, 2006.
Trivia
General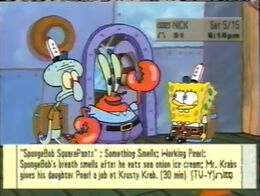 This episode was originally titled "Working Pearl," but was later changed to the final title. Comcast had still listed it with the original title, but this has since been fixed, and DirecTV originally used it too, but it was also soon fixed.
This episode marks the first time that the Krusty Krab has been remodeled.
This episode marks the first time that the Krusty Krab grill is removed from the kitchen.
This episode marks the first time where Nancy Suzy Fish is seen without lipstick or nostrils. However, in one scene, she does have nostrils.
This is the second episode to feature Chrome. The first is "SB-129."
The ideas Pearl and SpongeBob come up for the new Krusty Krab are:

Pearl: The Kutie Krab
Pearl: The Kooky Krab
SpongeBob: The Khaotic Krab
Pearl: The Kissy Krab
SpongeBob: The King Krab
Pearl: The Kandy Krab
SpongeBob: The Kool Krab
SpongeBob: The Kowboy Krab
SpongeBob: The Kurly Krab
SpongeBob: The Kreepy Krab
SpongeBob: The Killer Krab
Both: The Kuddly Krab

When Jimmy Gus drives by SpongeBob and then insults him, he inadvertently insults himself: by saying, "... I was just on my way to the big doofus convention!" he implies that he will be attending as a doofus as well.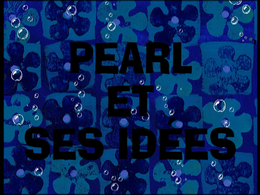 Errors
When Mr. Krabs tells SpongeBob and Squidward to get to his office, in the end, there is the noise that a walkie-talkie or electronic megaphone makes before and after one talks into it. However, Mr. Krabs uses a non-electronic megaphone.
When SpongeBob and Squidward are in Mr. Krabs' office, his door has a porthole window, but when he leaves and they are shaking hands, the porthole is gone and there is a life ring instead.

When Squidward is outside after SpongeBob and Pearl go inside, a car is seen beside the Krusty Krab. When Squidward shakes the Kuddly Krab sign, it disappears.

It is likely the driver already left offscreen.

The "K"s on Mr. Krabs' new uniform are rounded, but when it zooms into the scene of him lying on the floor, they are straight.
SpongeBob's sleeves are gone during one shot of the new menu.
When SpongeBob enters the Kuddly Krab office, the sea unicorn has a horn, but when Mr. Krabs points it out, the horn is gone. It then returns when Mr. Krabs cries on his desk.
When SpongeBob bumps into Pearl, her eyes are black rather than blue.
When SpongeBob walks into the kitchen to fire Pearl, on a close-up on his face, he is missing his K's on his uniform.
When Pearl kisses SpongeBob after he "fired" her, her eyelids are gray instead of light violet.
Mr. Krabs' blue stress toy is on his desk before SpongeBob comes over. When SpongeBob comes over and the view zooms out, the toy is gone.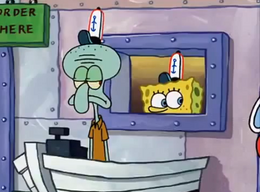 At the ending when SpongeBob says, "Isn't this great, Gary? And it only cost me one year's salary!," SpongeBob blinks his eyes but his eyelashes are still seen.
When SpongeBob tries to fire Pearl, his left pupil's outline becomes purple for a split second.
Incidental 1's voice is different than any other episode.
Video
References