Not to be confused with
Friend.
Character
Blue jellyfish are a rare species of jellyfish that are known for being difficult to catch. Jellyfish Fields is home to only one blue jellyfish, Friend, formerly known as "No-Name." Blue jellyfish also appear in some video games.
Description
Blue jellyfish are very rare. They are known to be very agile and stealthy, and they create blue jelly instead of purple or pink like the normal jellyfish. In "Jellyfish Hunter," SpongeBob captures the only blue jellyfish in all of Jellyfish Fields and names him "Friend."
Role in series
"Jellyfish Hunter"
SpongeBob tries to capture one at the start of the episode but fails. Later, the same blue jellyfish follows SpongeBob to his house, captures him, and takes him to Mr. Krabs' factory. The blue jellyfish and SpongeBob stop Mr. Krabs from using the jellyfish SpongeBob captured for his own good and sets all the jellyfish free. The blue jellyfish then enters SpongeBob's net, and SpongeBob calls the blue jellyfish "Friend."
Friend can be seen among many other jellyfish.
Role in video games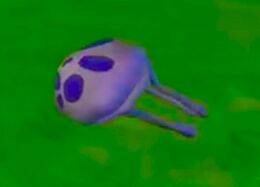 In the console versions of the original game and all versions of Rehydrated, blue jellyfish appear only in Jellyfish Fields. They are more dangerous than ordinary jellyfish.
In the original console game, blue jellyfish must be hit twice to defeat them, as opposed to ordinary jellyfish which only need one hit.
In Rehydrated, blue jellyfish only need to be hit once, but their radius of stinging the player is larger compared to ordinary jellyfish.
Blue jellyfish appear as one of many color variations of jellyfish in the Nintendo DS version.
Trivia
Blue jellyfish do exist in real life, also referred to as "bluefire jellyfish," scientifically known as "Cyanea lamackarii."
SpongeBob possibly does not eat jelly from a blue jellyfish.
Community content is available under
CC-BY-SA
unless otherwise noted.