Bikini Bottom Bash is a SpongeBob SquarePants DVD that was released on April 28, 2020 and contains one episode from season 3, three episodes from season 6, and one episode from season 12.
Episodes
Trivia
General
There was a VHS released in 2003 called Bikini Bottom Bash!. Additionally, both that VHS tape and this DVD contain the episode "Party Pooper Pants."
The theme song for "Truth or Square" is not included on this DVD, so despite what the credits say, CeeLo Green's performance is not included.
All of the episodes on this DVD are party themed.
The back cover of the DVD reads "For He's a Jolly Good Yellow!," parodying the popular celebration song "For He's a Jolly Good Fellow."
This is the first SpongeBob DVD for a few things: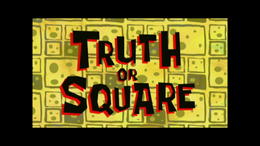 Each episode on this disc is technically in widescreen but full-screen episodes are pillar-boxed with black bars embedded onto the left and right side of the display. If one were to watch this DVD on a 4:3 display each full-screen episode would appear in a black box rather than filling up the whole screen.

"Truth or Square" is not only letterboxed in full screen, but it has the pillar-box bars embedded on the left and right of the image as well, making it appear in what as known as "Windowbox" no matter what size display someone uses. This is in contrast to The Pilot a Mini-Movie and the Square Shorts DVD, where the episode is in true 16:9 widescreen.

"Truth or Square" is included as the second and current TV version with all of the celebrity phone call scenes edited out.
"Party Pooper Pants" is included as the TV version, meaning the "welcome back" scene is kept in (However, the "stay tuned" scene is not used after SpongeBob says "Seriously!").
The intro is still only in the first episode, but unlike most SpongeBob DVDs, the credits are at the end of each episode rather than at the end of the entire DVD.
This DVD includes the trailer for The SpongeBob Movie: Sponge on the Run at the very beginning before the DVD menu. The trailer cannot be accessed from anywhere on the menu.

The trailer on this DVD uses 5.1 Surround Sound audio and still lists the release date as May 2020, probably because the copies of the DVD were manufactured before the movie was delayed.

On March 1, 2022, this DVD, Extreme Kah-Rah-Tay, and The Adventures of SpongeBob SquarePants were released together in a bundle called SpongeBob SquarePants Triple Pack.
Alternate covers
Videos
Print advertisement