"It's Squidward, silly!"

This article is in need of one or more better quality images. Please help Encyclopedia SpongeBobia by uploading a better image or editing the current image.
Please remove this message when finished.
Bikini Bottom Bash! is a SpongeBob SquarePants VHS tape that contains 2 episodes from season 1 and 2 episodes from season 3.
Episodes
Trivia
This is the first SpongeBob SquarePants VHS tape to contain a double-length episode.
"I Had an Accident" was released on this VHS tape, eight months before it premiered on television.
This and Deep Sea Sillies were the first VHS tapes to have the Nickelodeon Fish Bumper.
The cover for this tape is based off the episode "Party Pooper Pants."
SpongeBob's line "Seriously?" is removed from the episode "Party Pooper Pants" on this VHS, due to commercial breaks not being on the VHS.
Errors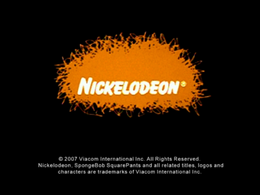 Despite the fact this tape was released in 2003, the Nickelodeon Haystack logo at the end has a copyright date of 2002.

When one buys the promotional copy of this tape, they will see the Paramount 90th Anniversary Logo on there that it is from 2002 before 2003. One can also find the "Paramount 90th Anniversary Feature Presentation" Bumper and logo inside the tape when you put it in the VCR. Deep Sea Sillies and Rugrats: Mysteries keeps using the Paramount 90th Anniversary Logo, but only on select prints. The promotional copies of these tapes have the same thing.
This is because VHS tapes are usually manufactured ahead of time before their release date.
The Canadian copy of this tape uses the 1986 Paramount logo.

The label on the VHS has the words "Bob" and "Pants" in the name SpongeBob SquarePants not capitalized. This is also the case with Deep Sea Sillies and the demo VHS of Halloween.
The demo VHS states that this has five episodes, when it really has 4.
Alternate covers
"Patrick! You're spraying the camera with Cheese Fizz!"

This gallery contains low quality images. At Encyclopedia SpongeBobia, we strive to have the best and most quality-rich content. You can help Encyclopedia SpongeBobia by uploading higher quality versions of the images in this gallery.
Community content is available under
CC-BY-SA
unless otherwise noted.