Best Year Ever is a year-long campaign that is being held worldwide and is celebrating the 20th anniversary of SpongeBob SquarePants. "SpongeBob's Big Birthday Blowout" debuted as part of the event. It will conclude with the release of the upcoming film The SpongeBob Movie: Sponge on the Run.[1]
Commissions in Germany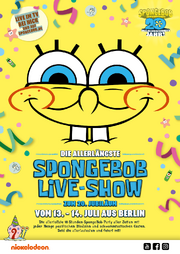 Nickelodeon Germany would host
SpongeBobs große Geburtstagssause
(
English
: SpongeBob's Great Birthday Break) from
July 12
to
14
. Host Sascha Quade would welcome famous fans and others in a glass studio located on the Marlene-Dietrich-Platz in the center of Berlin, nicknamed "SpongeBox," such as German voice actor of SpongeBob Santiago Ziesmer, singer Lukas Rieger, the duo Die Lochis, YouTube star Freshtorge, grill master Tom Heinzle, presenter Johanna Klum, rapper Fargo, the cast of the popular Nickelodeon series
Spotlight
, as well as other guests. Fans could also come over the SpongeBox and congratulate the show. The event would be followed by a 48-hour
SpongeBob Live-Show
, including live recordings from the SpongeBox, which could also be seen online at SpongeBob.de, and special musical performances.
[2]
From July 2 to 8, the Silesian Street in Berlin-Kreuzberg would also be receiving a special tribute to the show, as well-known graffiti artist and self-proclaimed SpongeBob fan HRVB would dedicate a huge mural to the show in a unique Berlin style Housing wall.
Nickelodeon, Comedy Central, and MTV in Germany would continuously air during daytime on July 12 numerous episodes of the series. The latter in particular would air a MTV Most Wanted special showcasing musical episodes of the series, including "Band Geeks."
A SpongeBob pop-up channel was added on Pluto TV in Germany and Austria on July 12, 2019, airing episodes from the show's first five seasons.[3]
Commissions in other countries
From January 3 to 12, 2019, during the Dubai Shopping Festival, an event named I ♥ Dancing was held at the Dubai Marina Mall.[4][5]
Another event named SpongeBob PartyPants was hosted at Our Tampines Hub in Tampines, Singapore on July 27-28, 2019. It featured party game stations with activities such as a "jellyfishing race," the "goofiest ice-cream fight," and "hoping around Goo Lagoon," as well as photo sessions with SpongeBob, Squidward and Patrick. The main characters, as well as others like the Flying Dutchman, Mermaid Man and Barnacle Boy, would be present. The latter-day, there would be a screening of The SpongeBob Movie: Sponge Out of Water at the building's Festive Plaza. By participating in the required game stations and redeem limited edition collectibles, visitors could also receive a free Krusty Krab take-out bag.[6][7] By obtaining a Golden Pickle on the SpongeBob Run app, taking a screenshot of that moment, and bringing it to the Mystery Gift Counter, the first 300 visitors could also win a mystery gift.
An event named Seronoknya Raya was held in May and June 2019 at the Paradigm Mall Johor Bahru in Johor, KL Gateway Mall in Wilayah Persekutuan Kuala Lumpur, and Paradigm Mall, Petaling Jaya in Selangor. It would include Raya-themed games and activities at special SpongeBob SquarePants-themed areas.[8]
A party was hosted at the 49th Giffoni Film Festival on July 20, 2019, which included a screening of "SpongeBob's Big Birthday Blowout."[9]
Nickelodeon and SKY New Zealand launched a 24-hour SpongeBob pop-up channel, which operated from July 6 till 21, 2019, on SKY.[10]
Nickelodeon teamed up with Citizens of the Great Barrier Reef to launch Junior Citizens Of The Reef, a pro-social initiative which would aim to raise awareness about protecting the Great Barrier Reef.[10]
A SpongeBob special event was hosted by Nickelodeon Japan on the Tokyo Summerland aquatic amusement park in Akiruno from July 15 till 17, which included meet and greet, and special photo booths. There was also a contest held, to give fans the chance to voice a character in an episode of the series. It was reported that the recordings would take place at the Tokyo Metropolitan Area on July 15.[11]
Merchandise
In July 2019, it was announced that Nike would release a Kyrie x SpongeBob SquarePants collection of 5 shoe models, each one based from one of the show's five main characters: SpongeBob, Patrick, Squidward, Mr. Krabs and Sandy.[12]
Kidrobot and Nickelodeon released 8-inch SpongeBob SquarePants Sea Sponge Art vinyl figures: Rainbow (exclusively sold at the Comic-Con San Diego event), Rainbow Glitter (exclusively sold online on kidrobot.com; 200 purchases only) and OG edition. The latter two were first released on July 26, 2019.[13]
A SpongeBob beauty line was produced and released by HipDot Studios, offering products inspired by characters and featuring a palette, blush bronzer, lip glosses, and face masks of SpongeBob and Patrick, that play on the colors of the show.[14]
The Best 200 Episodes Ever was first released on Amazon Prime Day, July 15, 2019 and was released elsewhere on August 27, 2019.[15] The First 100 Episodes, The Next 100 Episodes, and a special-edition 20th anniversary poster originally created for San Diego Comic-Con, featuring several characters that have appeared on the show, are included on The Best 200 Episodes Ever.[16]
Marathons
On Nickelodeon channels in Greece, France, Germany, Wallonia, Central and Eastern Europe, Portugal, Spain and Italy, through summer 2019, there would be marathons named Best Yellow Summer Ever airing at Saturday afternoons.[1][17][18]
Weelky marathons started airing on Nickelodeon Greece on July 6, every Saturday at 6:30pm.[19] Right before the start of a Nickelodeon program, an ident promoting the event would appear; a sponge with square glasses would present facts about characters from the show (such as Gunther Fitz's statement in "Mrs. Puff, You're Fired," that SpongeBob has failed the boating test 1,258,056 times).
Weekly marathons started airing on Nickelodeon Wallonia on July 6, every Saturday at 3:00pm.[20]
Between July 8 and 14, Nick HD+ would also air marathons in mornings.
YTV aired on July 13 and 14, a marathon of episodes, along with an airing of The SpongeBob Movie: Sponge Out of Water.[21]
Every SpongeBob Ever was a marathon that aired on Nicktoons from July 7 till 11. Despite being halted for unknown reasons, resulting in over 70 half-hours not airing, the marathon was the longest one of the series, since The Ultimate SpongeBob SpongeBash, a marathon for the series' 10th anniversary.
The following episodes aired during the Best Yellow Summer Ever marathon on July 13, 2019:
Title card
#
Title
Airdate
Viewers (millions)

80a
"Best Day Ever"
July 13, 2019

N/A

SpongeBob's best day ever doesn't go as planned.

80b
"The Gift of Gum"
July 13, 2019

N/A

Patrick gives SpongeBob a glob of gum for Best Friends Day.

9a
"Nature Pants"
July 13, 2019

N/A

SpongeBob gives up a modern life to live with the jellyfish.

9b
"Opposite Day"
July 13, 2019

N/A

Squidward tells SpongeBob and Patrick that it is Opposite Day.

126
"The Clash of Triton"
July 13, 2019

N/A

King Neptune will not celebrate his birthday until SpongeBob and Patrick find his son, Triton.

51
"Party Pooper Pants"
July 13, 2019

N/A

SpongeBob throws a party.

71a
"Whale of a Birthday"
July 13, 2019

N/A

Mr. Krabs sends SpongeBob to get Pearl a birthday present.

71b
"Karate Island"
July 13, 2019

N/A

SpongeBob becomes "the king of karate" and travels to Karate Island with Sandy.

123-124
"Truth or Square"
July 13, 2019

N/A

During a Krusty Krab anniversary celebration, SpongeBob, Patrick, Squidward, and Mr. Krabs accidentally get locked in the freezer.

60a
"SpongeBob Meets the Strangler"
July 13, 2019

N/A

A criminal attempts to get revenge on SpongeBob.

60b
"Pranks a Lot"
July 13, 2019

N/A

SpongeBob and Patrick use invisibility spray to play pranks on the citizens of Bikini Bottom.
Gallery
References
Community content is available under
CC-BY-SA
unless otherwise noted.