If you were looking for the article about the
character
, then see
Alan Quaterkrab
.
If you were looking for the article about the
voice actor
, then see
Alan Carr
.
Person
Alan Edward Smart (born October 10, 1963, age 58) is a SpongeBob SquarePants crew member. He is known for being an animation director, as well as the show's supervising director. He often collaborates with Tom Yasumi, Andrew Overtoom, and Michelle Bryan.
Biography
Smart was born on October 10, 1963, in Los Angeles. He was educated at Brandis Art Institute (1979–1981) and California Institute of the Arts (1982–1986).
He is best is known for his work on SpongeBob SquarePants since it began in 1999 and as an assistant director and layout artist with The Simpsons (he also received credit as a director in the season 3 episode "Flaming Moe's"). He also did animation for the Nickelodeon cartoons Rugrats (1991 TV series), Ren & Stimpy, Rocko's Modern Life, Hey Arnold!, CatDog, and Sanjay and Craig. He has also worked on seven animated films: The Chipmunk Adventure, Oliver & Company, The Little Mermaid, Box-Office Bunny, Gumby: The Movie, The SpongeBob SquarePants Movie, and The SpongeBob Movie: Sponge Out of Water. Smart also worked on the pilot episode of Family Dog and was an animation director on 101 Dalmatians: The Series (according to the credits).
As of July 2013, he is the Supervising Animation Director at Paramount Pictures.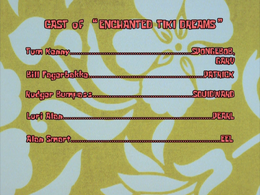 He has been the animation/supervising director for many episodes in the series. He also appears in "
Life of Crime
" as the
bodybuilder
. Alan Smart voiced
Incidental EHS5
in "
Enchanted Tiki Dreams
."
Gallery
External links