If you were looking for the article about
season 3
, then see
Season 3
.
If you were looking for the article about
season 4
, then see
Season 4
.
"It's Squidward, silly!"

This article is in need of one or more better quality images. Please help Encyclopedia SpongeBobia by uploading a better image or editing the current image.
Please remove this message when finished.
2-Season TV Pack[1] is a SpongeBob SquarePants DVD set that was released in 2015 and contains all the episodes from the third and fourth seasons, and the season 1 episode "Help Wanted" as a bonus.
Season releases
Episodes
Season 3
Disc 1
Disc 2
Disc 3
Bonus
Season 4
Disc 1
Disc 2
Disc 3
Disc 4
Special features
Animatics
Specials
Pop-up trivia facts
Music Videos
Shorts
Trivia
General
Errors
On the backside, "Krab Borg" is listed as "Krab Borg!," which adds an exclamation mark to the title.

However, the Region 4 release lists the episode as "Krab Borg."

On the Region 4 release, "Snowball Effect" is listed as "The Snowball Effect."
In the closed-captioning version of "Plankton's Army," Plankton says that "United, the Plankton family could be a real pain in the fanny!, the closed captions say "belly" instead of "fanny."
On the front cover, the handle on SpongeBob's spatula is red instead of black.
On the front cover, Patrick's eyelids are pink instead of purple. This also happens on The Complete Third Season, The Complete Fourth Season, and The Complete Fifth Season DVDs.
The disc 4 episode description of "Best Frenemies" reads, "Mr. Krabs reveals he and Plankton were once the best of friends." However, this description actually refers to the season 5 episode "Friend or Foe."

This description error also happens on disc 10 of the 2009 release of The First 100 Episodes and disc 4 of The Complete Fourth Season DVDs.

Even though "The Thing" is episode 76a and "Hocus Pocus" is episode 76b, disc 4 has those episode production numbers in the opposite order (76b, then 76a). This error also occurs for "Born to Be Wild," "Best Frenemies," "The Pink Purloiner," and "Squid Wood."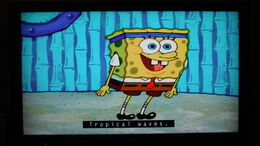 In the episode "Squidtastic Voyage," there is a closed-captioning error when SpongeBob and Patrick are dancing at the beginning. SpongeBob says, "Tropical breeze." However, the captions say, "Tropical waves" instead of "Tropical breeze."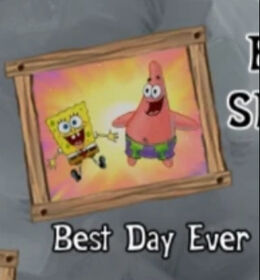 The Complete Third Season
The Complete Fourth Season
Disc 1
Disc 2
Disc 3
Disc 4
References