"It's Squidward, silly!"

This article is in need of one or more better quality images. Please help Encyclopedia SpongeBobia by uploading a better image or editing the current image.
Please remove this message when finished.
سبونج بوب سكوير بانتس (Sbōnǧ Bōb Skwēr Bānts󠁁​󠁒), also known as just سبونج بوب (Sbōnǧ Bōb) is the Arabic dub of SpongeBob SquarePants. It is part of International SpongeBob SquarePants.
History
The dub airs on MBC3 and Nickelodeon Arabia. It was first aired on the latter between 2008 and 2011, then MBC3 from 2011 to present day and later on Nickelodeon Arabia again, after the 2015 relaunch.
On MBC3, the episode titles and two parts of the theme song are localized in Arabic, with other instances of text untouched. On Nickelodeon, they air the original untouched.
Cast
Characters
Other cast
These credits are used in the first four seasons on Nickelodeon Arabia (2009 - 2011), then season 8 as broadcast on MBC3.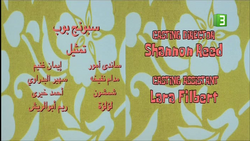 Role
Doer
Dubbing studio
Neo Productions
(نيو للإنتاج الفني)
Translator and preparator
Dalia Alsaawi
(داليا الصاوي)
Singing director
Noha Qais
(نهى قيس)
Sound engineer
Mutaz Matar
(معتز مطر)
Yousef Al-Awadi
(يوسف العوضي)
Assistant director
Yasmin Najib
(ياسمين نجيب)
Dialogue director
Amr Muqbil
(عمرو مقبل)
Technical director
Rasha Abu Rish
(رشا أبو الريش)
Reem Abu Rish
(ريم أبو الريش)
Terminology
Locations
Original name
Localized name
Meaning
Bikini Bottom
قاع الهامور
(Qāʿ al-Hamur)
Grouper Bottom
Krusty Krab
مقرمشات سلطع
(Muqrmshat Salatae)
(same meaning)
Chum Bucket
دلو الصداقة
(Dalw al-Ṣadaqa)
Friendship Bucket
Foods
Original name
Localized name
Meaning
Krabby Patty
سلطع برجر
(Salatae birijr)
(same meaning)
Episodes
Censorship
Nick Arabia Re-dub (2016 - Present)
On Nickelodeon Arabia, most of the season 5 and 7 episodes aired late with a re-dubbed version because of all of the MBC3 censored version. On Nicktoons Arabia, all the episodes of season six were aired full and uncut (same actors - studio..etc.)
Episodes like "Gary in Love" and "Love That Squid" are dubbed by the beginning of 2017, and for the first time premiered once since Nicktoons Arabia launched.
All of season 8 is re-dubbed and fixed, but some title cards had changed like "Frozen Face-Off." For the rest of the season, they kept all title cards as they aired on MBC3. The last episodes to be re-dubbed are "The Good Krabby Name"/"Move It or Lose It."
Songs
Gallery
Videos
Trivia
In 2008, Nickelodeon Arabia aired a bumper with SpongeBob sleeping during the late-night broadcast hours.
"SpongeBob You're Fired" was the last episode to be dubbed on MBC3 because of the Nick Arabia relaunch.
"Enchanted Tiki Dreams" was the last episode ever aired on MBC3.
"Frozen Face-Off" has two titles that are completely different, the first one is on MBC3 and the other one is on Nick Arabia.
There's a fake and illegal dub aired on Mickey Channel Kids. Not much is known about it.[4]
External links
Official
Nonofficial
References
Community content is available under
CC-BY-SA
unless otherwise noted.